About Our Day Tours
Our day tours leave between 8h30 and 8.45 am and return around 4/4.30pm. You will be collected from your hotel and dropped off there after your tour. All tours include a hearty, home-made picnic lunch, drinks, National Park permits and taxes. Our picnics are a must! Fresh bread and home made pâtés, lasagnes, salads, fruit, cakes and coffee ... all enjoyed in the middle of nowhere with spectacular views into the bargain!
During the day we stop frequently to get out and explore. We attempt to provide an under-standing of the environments we visit, engaging the principles of interactive, interpretive guiding. Each tour involves some walking, but we take care not to overtire our guests. Similarly, while our tours usually includes some fairly adventurous driving in off-road and desert conditions, safety is our prime concern. Our guides are highly experienced in this type of driving and observe strict guidelines for the protection of our guests and the conservation of the environment.
Sandwich Harbour
The Turnstone Tour to Sandwich Harbour begins when you are collected from your hotel at about 8.30 am. You drive along a beautiful dune chain adjacent to the Atlantic Ocean, zigzagging the


original railway line between Swakopmund and Walvis Bay. This is an opportunity for a detailed look at the formation of 'the world's oldest desert' - its origins, composition and movements and erosions.
Your first stop is at ' Bird Rock ', a guano island inhabited by about 200 000 birds and one of the earliest examples of efforts to commercialize the coast's rich natural resources. The Lagoons at Walvis Bay and at Sandwich Harbour have been is designated as 'Wetlands of International Importance' (or 'Ramsar sites'), while the 'Bird Paradise' at Walvis Bay is a key nesting and feeding site for thousands of visiting and resident birds. Frequent surveys, overseen by expert ornithologists from Namibia and South Africa, regularly record numbers of Flamingo, Plover and Tern between Walvis Bay Lagoon and
Sandwich Harbour. Other favourites, such as Pelican, Avocet, Turnstone and a huge variety of waders can be seen, with numbers peaking at around 170 000 in November. Several endemic species, such as the Dune Lark and the Damara Tern, are also in the vicinity.


Leaving Walvis Bay behind, you head for the lower reaches of the Kuiseb Delta. This unique ecosystem is dotted with archeological sites, 450 year-old animal tracks, wind blown graves and magnificent dunes. There is evidence of ancient and recent gathering, harvesting and trading by the Topnaar, an indigenous Namibian community descended from the !Khoi group, which relies on the naturally occurring !Nara fruit for its marginal existence.

Turning south, you begin the approach to Sandwich Harbour itself. This crosses barren salt pans and vegetation-covered hummock dunes that shelter small groups of oryx, Springbok, Ostrich, Jackal and the occasional Brown Hyena. Peregrine Falcons, Pale Chanting Goshawks and Black-breasted Snake Eagles can sometimes be seen hunting small mammals (such as gerbils and three-striped-mice) that share the dunes with a fascinating variety of desert-adapted insects, reptiles and plants.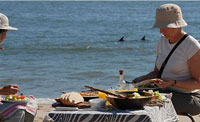 Photo courtesy: Alec Connah
This section of the journey is as dramatic as the landscape, and it soon becomes clear why Sandwich Harbour is often described as inaccessible! Spring tides and shifting sands ensure an unpredictable route, but as you approach the towering, wind-sculptured dunes at the edge of Sandwich Harbour, there is a sense of entering a different world.
All that is left of the old whaling station and its community of traders and fishermen, is the freshwater lagoon, a solitary deserted building and the strange greenery of this unique coastal wetland. This is the setting for your picnic - a large hamper full of homemade cakes, savouries, salads, fruit and drinks - followed by a walk along the Lagoon (an official marine reserve) or a scramble up the towering dunes. If you're keen on birds, the Lagoon and its surrounds are something of a wonderland. Over 40 000 birds - 34 different species - have been recorded in this area. And for wave-watchers, it's usual to see seals and dolphins here, while sightings of whales are also an occasional treat.
The drive back home affords a last look at these haunting landscapes and a chance for reflection ... you will arrive back at your hotel round about 4/4.30pm.
Please note: in the interests of safety, we reserve the right to modify this tour should our guide deem weather or driving conditions dangerous.
| to top of page |
'The Sheltering Desert'
Exploring the Swakop and Khan RiverValley
- a unique tour of the Namib Desert -
Departing Swakopmund at approximately 8.30am, this tour takes you inland into a unique ecosytem of gravel plains, sweeping dunes and river valleys. The first part of the tour focuses on a variety of classic dune formations with magnificent views, providing perfect opportunities to photograph the scope, shapes and colours of the Namib. It is also affords a fascinating insight into a world of reptiles, birds and insects living among the sand dunes. We'll probably see gekos, lizards and harmless snakes - all uniquely adapted to surviving in the burning sands of the desert. It is also a good platform from which to take a brief historical perspective of the area and get an insight into the key role played by the Swakopmund and Walvis Bay in the development of modern-day Namibia.
We venture deeper into the desert and the massive Namib-Naukluft National Park via the Swakop River valley and the Moon Landscape, formed over 460 million years. Botanically, this is like landing on another planet: 1 500 year-old Welwitschias, lithops, hoodias and mist-gathering lichens are unforgettably surreal. So - in quite a different way - is the historically-loaded oasis of Goanikontes. Once an important stop over for travellers heading inland from the coast, the palms and blue gum trees which still haunt this 19th century Schutztruppe garrison, symbolise man's doomed efforts to re-order the desert.
As we head into the lower reaches of the Khan River Valley, there is a chance to see Oryx, Springbok, Kudu, Klipsringer, Steinbock, Ostrich and Jackal set against the harsh rocky landscapes of the pro-Namib. Geologically, this area is of huge significance: from countless small-scale mineworks of hand-hewn tourmaline and rose quartz, to the largest open-cast uranium mine in the world. Their mineral treasures apart, these geological formations are stunningly beautiful: marble, mica, spider-web dolorite and granite cliffs provide interesting short walks and climbs to explore the area. On the way back to Swakopmund, we see yet another side of the Swakop River: an established community of small holdings lining the riverbed. These range from asparagus production, date plantations and olive groves, to small stock husbandry, riding stables and a 'camel farm'. As with all our day excursions, this tours returns to Swakopmund around 4/4.30pm. Our delicious picnic lunches, taken in splendid scenery, are not to be missed - nor is the exciting 4x4 dune-driving necessary to reach the best panaramas!
Please note that while there will be much to marvel at in the course of this tour, we do not 'guarantee' a 'little 5' tick-list. We feel that the 'sheltering desert' should be just that: a place of sancuary and nurture for its wildlife, which deserves its peace and privacy as much as we do. What we find along the way we will be happy to show, but we will not routinely dig out, handle or disturb these small, often fragle, creatures as an added attraction.
A day at Cape Cross and the Messum Crater
This is a journey northwards hugging the
shoreline to the famous Skeleton Coast. You'll see lichen fields on the gravel plains, flamingos and pelicans on the salt pans, the bizarre seaside settlement of Wlotzkasbaken and Namibia's most northerly coastal town of Henties Bay. A little way beyond this is the seal colony at Cape Cross - the largest in the southern hemisphere and home to about 200 000 seals in the peak breeding season. Not far from the seal colony is the site of the first European landing on the Namibian coast in 1494 by the Spanish explorer Diego Cao. Once marked by the cross he erected there, Cao's ambitious landing is now commemorated by a replica monument on the edge of the wild and treacherous Skeleton Coast.


Your journey now heads inland towards Damaraland and the approach to the Brandberg, Namibia's highest mountain which can be seen in the far distance. The scenery is dramatically different, and in this rugged semi-desert, in the foothills of the Messum Crater, you'll stop for lunch: a huge picnic hamper full of delicious home-made food, enjoyed in the impressive scenery of the pro-Namib's seemingly endless gravel planes. Straddling the border with Damaraland, the road to the Messum crosses over into a region of higher rainfall which in past times was used as marginal grazing ground for small stock, by Damaraland's pastoral nomads.

The Messum itself is a massive 130 million-year-old volcanic crater of huge geological significance, whose history and development can be traced in the cracked, squashed and shattered patterns of granitic intrusions and inselbergs. All wonderfully photogenic! Old shelters in the Crater and examples of rock art - dating back up to 5 000 years - can be seen. An added bonus is that this area also boasts some of Namibia's finest and least-visited specimens of the Welwitschia Mirabilis.
This miraculous plant - massive, ancient, surviving against all odds - is considered one of the world's botanical marvels.

Finally, apart from playing host to such astonishing examples of the country's national flower, this landscape is home to a surprising range of animals: springbok, ostrich, brown hyena and jackal are found here, and it's not unusual to see cheetah out scanning the plains for game. But there are smaller species too, like meercat, ground squirrels and gerbils; while endemic and near endemic birds, such as the Gray's Lark and the Long-Billed Lark, can be spotted flitting among the rocks.


The tour leaves Swakopmund at 8am and returns in the early evening. Our minimum booking for this tour is four passengers.
| to top of page |